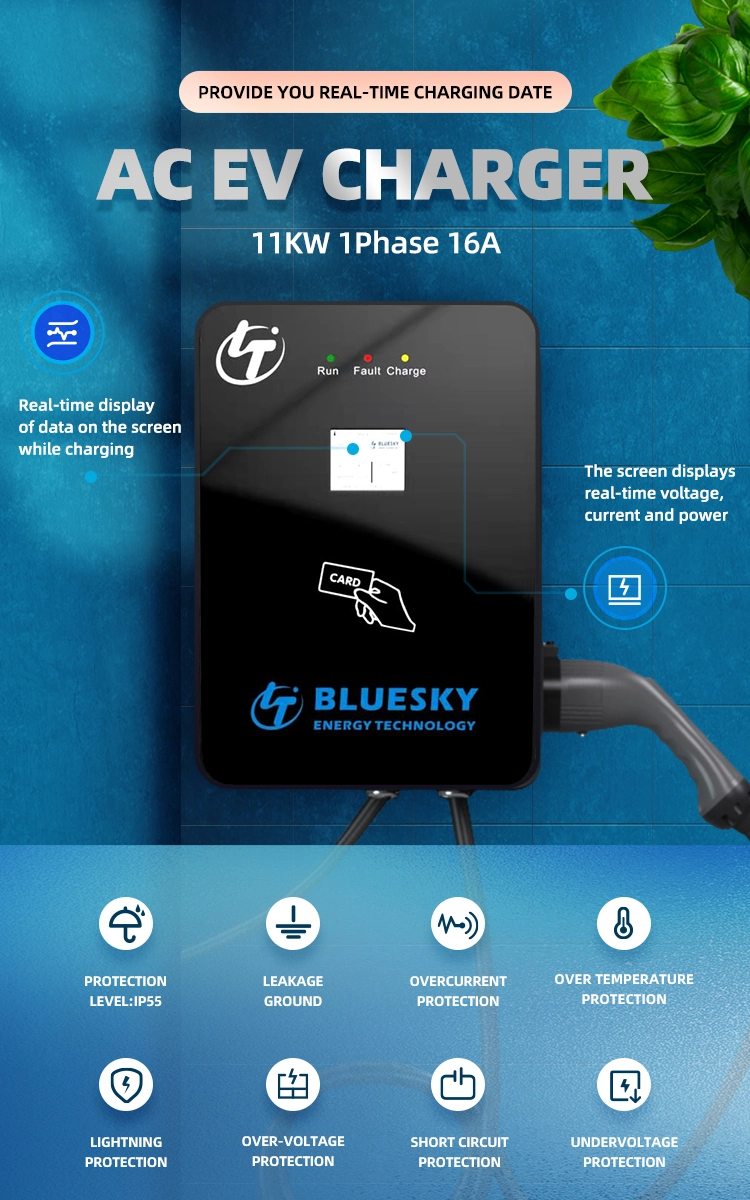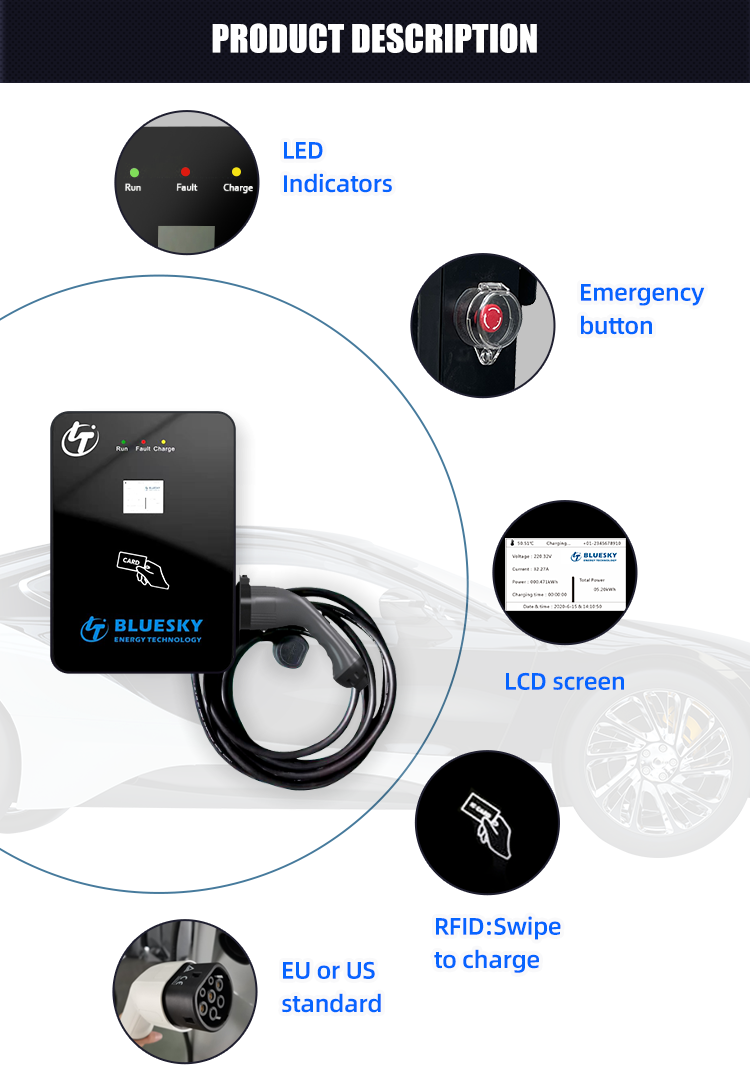 | | | | |
| --- | --- | --- | --- |
| | | | |
| | | | |
| | | | Type2IEC 62196-2 /GB/T20234.2 |
| | | | |
| | | | |
| | | | |
| | | | |
| | | | |
| | | Over-temperature protection | |
| | | | |
| --Function and Accessory-- | | | |
| | | | |
| | OCPP1.6 | | |
| | | | |
| | | | |
| | | | |
| | | | Up to 2000m |
| | | | Natural air cooling |
| | | | ≤95% non-comdensing |
| | | | 55dB |
| Standby power consumpiton | | | |
| | | | |
| | | | |
| | | | |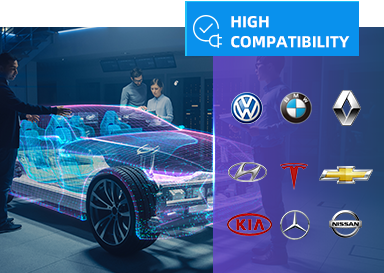 Our EV charger is compatible with most electric vehicles that comply with the standard, IEC 62196-2 standard or GB/T 20234.2 standard and SAE J1772 standard.
The screen can show you the real-time charging date Including charging time, voltage, current, power and temperature of the AC EV Charger.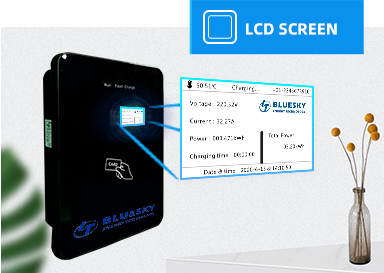 The EV Charger has passed the strict test of CE and has multiple protection including Overvoltage, Undervoltage, over-heating, overload, short circuit, leakage, lightning protection.
The EV Charger supports RFID function The user can control the EV Charger to start and stop through the RFID card and prevent the unauthorized use of the cardless user.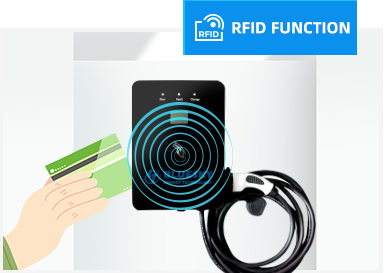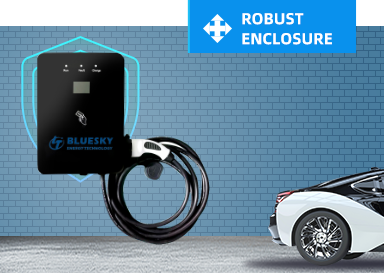 Waterproof level IP55. You can use the item outdoor and do not have to worry even in rainy days. The shell is made of PA, light but robust, so it will not be easily damaged. the EV Charger uses anti-theft screws. You can add a lock at the Ev charger to prevent loss.
Support OCPP can connect to CMS via LAN or 4G. On the platform, you can formulate price templates, manage RFID cards, monitor and manage Ev Charger, and display all operation records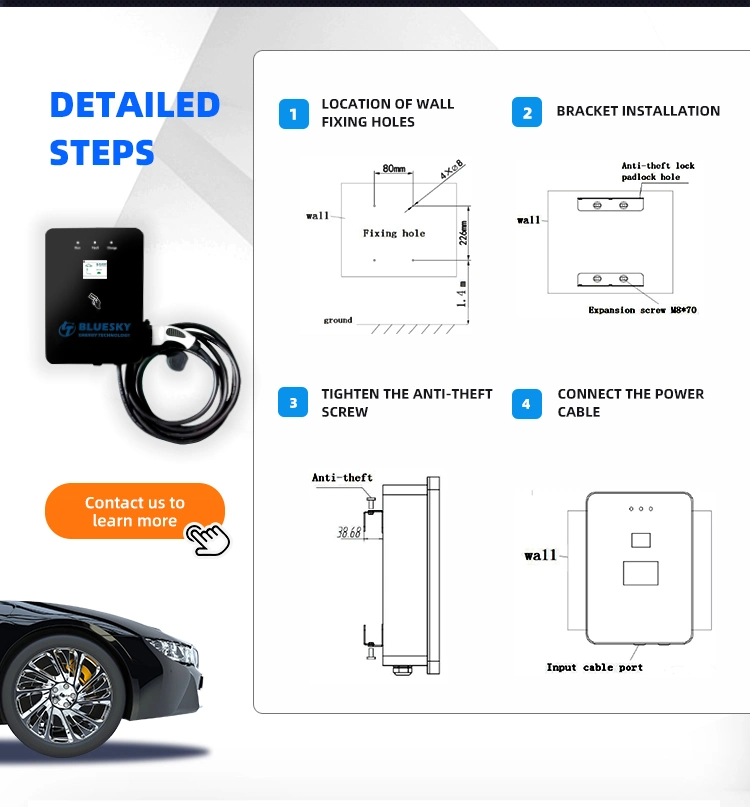 Don ' t use the EVSE with an extension cord or adaptor.

The EVSE is only for EV charging using.

Don't step on, fold or knot the cable.

Don't touch the

EVSE

contact surface with heat dirt or water.

Don't drop the EVSE or place a heavy object on it.

The PE terminal of the EVSE must be reliably grounded.
Wenzhou Bluesky Energy Technology Co. Ltd as a public company listed on the China Stock market in 2015 (stock code 835708), has been a leading manufacturer of energy metering equipment for more than 20 years.
Bluesky provides complete solutions for electric vehicle charging stations For ex-ample, AC EV charger; fast DC EV charger; ultra-fast EV charger; liquid-cooled EV charger; smart Ev charger stacks; charging station management system; RFID and charging station bank pos system. The products have obtained ISO, CE, GB/T, TUV, and other certificates.
The company has more than 170 professional workers, 30 after-sales technicians, and 30 R&D engineers, which can provide customized designs and turnkey projects according to different products and fields. The company can provide complete solutions from design, R&D, manufacturing, shipping, installation, commis-
signing, training, and maintenance services. With guaranteed quality, competitive prices, and complete after-sales support. Bluesky products have been exported to more than 80 countries and regions in Asia, Europe, Africa, and South America.
Customers First and Dedication is what BlueSky standing for.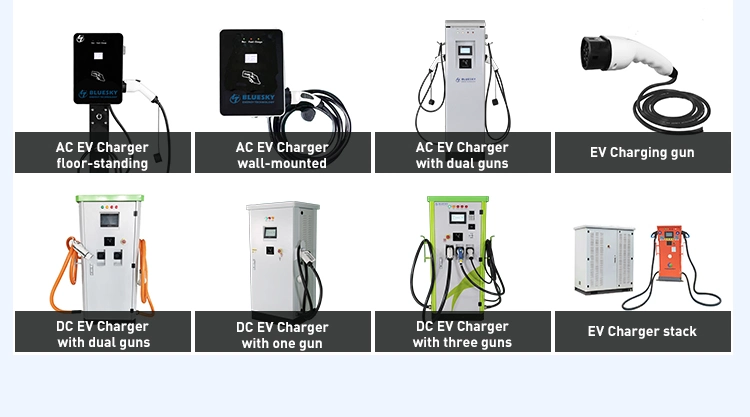 We have rich experiences in EV Charging field. Thanks to cooperation with many clients from different continents and countries, We have customized lots of products for many clients. Thus we know how to provide more suitable products and solutions according to different regions. We are totally ready to provide our customers with timely, effective and full of care service to help them solve most of the EV Charging issues.
We are cooperating with customers from Belgium, installed in the parking area outside their own factory not only to provide charging benefits for their employees but also to provide a charging place for electric vehicles on the market.
Cooperate with property companies in several smart communities. Install Ac charging stations in parking lots on the ground and underground. When the owner returns home at night the electric car can be charged. by the next morning, the car will be fully charged.
The client is a new energy company, located in the bustling city center, mainly selling new energy electric vehicles. Our cooperation project is a 720KW charging stack, which allows customers to experience the charging function while also doing open charging operations.
We cooperate with a mall owner. the project is to build a DC charging station, which can attract more customers with electric vehicles to shop in the mall. And customers who own electric cars will not have low purchasing power.
Customers are owners of some companies. Install AC EV charger to provide benefits for employees. This method has the effect of attracting and retaining talents. Research shows that people who buy electric cars are usually highly educated, making them the most ideal employees.