Fixed 5VDC input, Regulated +/-5V Output, 2W DC DC Power Module
2W DC DC Converter
A0505S-2W
A Series DC-DC Converter Features:
-Low cost, small size.
- high power density.
- high galvantic isolation.
- no heat sink required.
- Unregulated dual output, fixed input.
- 1KV isolation.0.5W--3W power consumption.
A Series DC-DC Converter Applications:
-Electric Power System, Power monitoring,voltage conversion
-dual power isolation in digital communication ports of RS232/485, CAN bus
-power supply isolation in intelligent control, security equipments, telecom,etc
-safety isolation in ground loop elimination, medical equipments and instrument
-Isolation & power supply for analogue electric circuit ( Transmitter & sensors)
-Power supply isolation & transfer for safety monitoring and smart building system
-Ground loop interference control
-Car electric circuit power isolation & distribution
-Battery power supply, voltage transfer, power distribution
-PLC, DCS,PC isolation regulated power supply.
A Series DC-DC Converter Model selection:

A Series DC-DC Converter Parameters: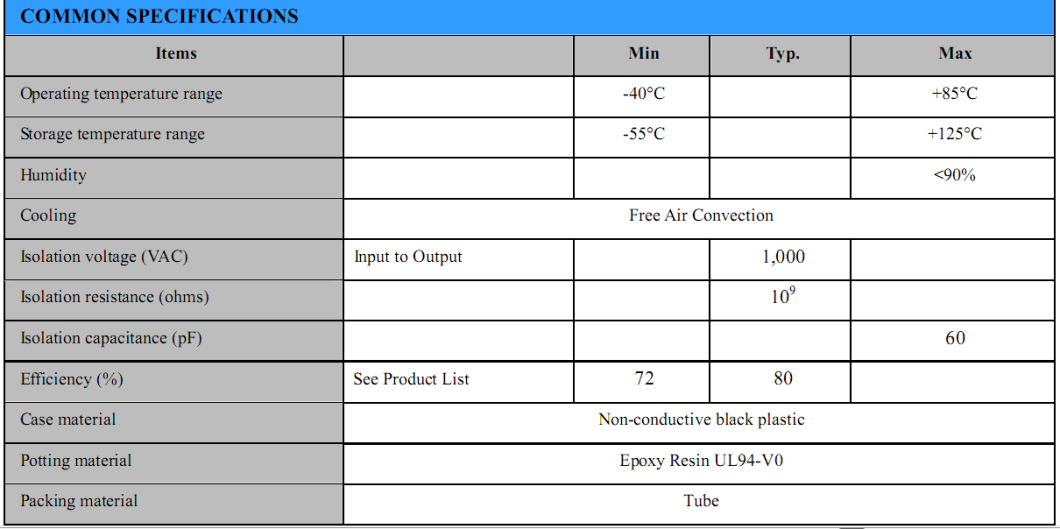 5V to +/-5V DC DC Converter Dimension & Pin Description: